Wooden Shutters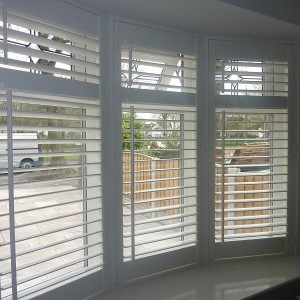 Our shutters are a stylish and versatile option, as they come in a gorgeous array of colours and can be made to fit virtually any size window or door, in any type of property. From vintage charm to contemporary minimalism, shutters bring an instant shot of laid back style into your home.
The  range is available in five different wood types, a choice of five shutter styles and 117 painted and stained finishes and colours. Pick from a luxe palette that includes different shades of white, creamy neutrals, warm chocolates and soft greys. Or you can choose to have your shutters painted to match your colour scheme by opting for one of thousands of custom colours.
Each shutter is bespoke and made-to-measure which means they provide the ideal solution for awkward or unusual shaped windows as it can be made to perfectly fit almost any form, from arched to hexagonal or circular to triangular and more or less anything in between.
And Vienna, our waterproof range is of course perfect for bathrooms and wet rooms.
Cleveland
cleveland shutters
Cleveland shutters are manufactured using a range of composite materials including MDF panels with ABS louvres and MDF frames to produce an outstanding, reliable and tough shutter suitable for pretty much any application.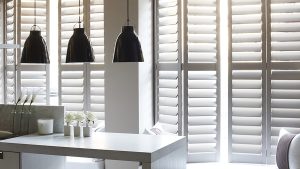 Classic
classic shutters
This is the most affordable route to shutter style for those who love the look of shutters but are working to a budget.
Made from low density fibreboard, an engineered wood product, these shutters are strong, and straight, giving a uniform look that is smooth and neat when painted.
Made to our exacting standards, they are simple yet attractive and available in five shades of white and neutral tones.
Marchwood
marchwood shutters
Made from hardwood panels and MDF frames, our Marchwood range is a great all-rounder and offers super value for money.
They're suitable for most rooms in the house and are available in five gorgeous painted finishes.
Grovewood
grovewood shutters
Our Grovewood collection is our most comprehensive and popular range of shutters. Made from premium quality hardwood, that shows the grain when stained yet gives a smooth finish when painted, it offers a wide range of colour options – a total of 37 stained and painted finishes.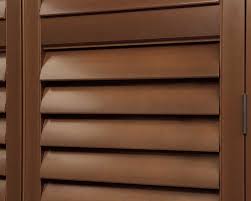 And if that weren't sufficient, there is also the option to have them custom painted! A perfect shutter that ticks all the boxes.
Vienna
vienna shutters
Vienna, our water-proof and manufactured to be incredibly tough and durable. The panels and frames are produced using Acrylonitrile Butadiene Styrene (ABS) which is the same material used to make crash helmets and kettles.
Impervious to water, resistant to heat and tougher than PVC, our Vienna range is ideal for bathrooms and high traffic areas.
Phoenix
phoenix shutters
This is a very lightweight bleached out hardwood with a lovely distinctive grain that stands out even when painted.
Phoenix is available in a gorgeous range of stained finishes as well as the popular painted colours.